What are the primary elements used for flow measurement ?
 The primary elements used for flow measurement are :

•    Orifice Plate - Orifice plate is used for flow rate measuring in pipe systems. With orifice plate, pressure drop is created. Based on the magnitude of pressure drop, flow rate can be calculated. This instrument is very practical for large tube diameters and for dirty fluid when turbines are not applicable.
 •    Venturi tube - Due to simplicity and dependability, the Venturi tube flowmeter is often used in applications where it's necessary with higher TurnDown Rates, or lower pressure drops, than the orifice plate can provide.
In the Venturi Tube the fluid flowrate is measured by reducing the cross sectional flow area in the flow path, generating a pressure difference. After the constricted area, the fluid is passes through a pressure recovery exit section, where up to 80% of the differential pressure generated at the constricted area, is recovered.
•    Pitot tube - The pitot tube measures the fluid flow velocity by converting the kinetic energy of the flow into potential energy.
The use of the pitot tube is restricted to point measuring. With the "annubar", or multi-orifice pitot probe, the dynamic pressure can be measured across the velocity profile, and the annubar obtains an averaging effect.
 •    Annubars - An annubar consists of several pitot tubes placed across a pipe to provide an approximation to the velocity profile, and the total flow can be determined based on the multiple measurements.
•    Flow Nozzle - Flow Nozzle is a differential flowmeter that creates a flow restriction for, typically, high-velocity, non-viscous, erosive flows.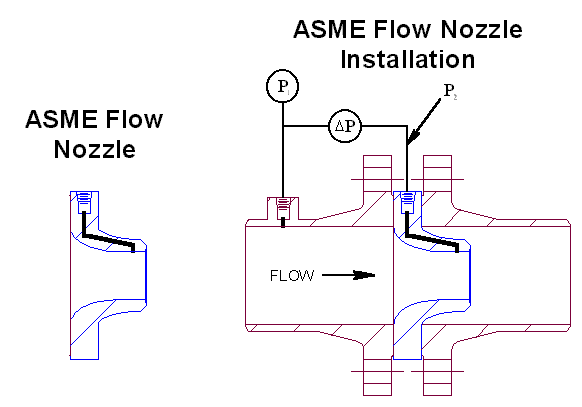 •    Weir & Flumes - A weir is a low dam or overflow structure built across an open channel. It has a specific size and shape with a unique free-flow, head-discharge relationship. The edge or surface over which the water flows is called the crest. Discharge rates are determined by measuring the vertical distance from the crest to the water surface in the pool upstream from the crest. Flumes are primary devices that constrict an open channel flow for measurement. Once the flow is backed up behind the constriction there is a defined relationship between the depth up stream and the flow through the constriction. This relationship can either be determined from an equation or a table.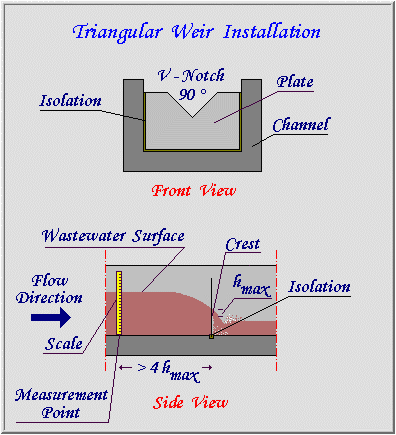 (all graphics presented are copyrights of their respected owners)
Comments
(1)
Subscribe to this comment's feed
Write comment